Route
---
The race will start at Benvie Gardens and finish at the Karkloof Country Club. The exact route will only be released at the training camp in August 2022, but we do not foresee any major changes from the 2021 route. The route is approximately 80km, the exact distance will be dependant on the final route.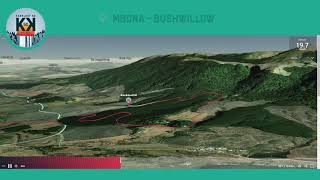 Cut-offs Karkloof Country Club Aid station - 64km: 15 hours (21h00 - Saturday) Finish Line - 80km: 18 Hours (00h00 - Sunday)
---
Compulsory Gear
---
1 Litre liquid carrying capacity
Number (for runner and pacer)
Headlamp - Does not have to be carried for the daytime section.
The organisers retain the right to adjust this if extreme weather conditions are predicted.
---
Aid Stations
---
Major Aid Stations: There are 4 major Aid Stations that serve the 50 Milers.
Mbona Main Gate
Bushwillow Campsite
Rockwood Farm
Karkloof Country Club
Caravan Aid Stations
There will be one located in between each Aid Station to reduce the distance between stations for certain essentials. They will be stocked with water, ice and coke.
Karkloof Falls - inward bound only
Top of Honey Loop
Canopy Tours
Msomi Crossing
Mbona Bottom Gate
---
Pacers
---
50 Mile runners are allowed 1 pacer to join them on the last 16km of the race.
Pacers can meet their runners at the Karkloof Country Club aid station and head out on course with them from there.
Pacers need to carry the same compulsory gear as per the runner's compulsory gear list.
Pacers may assist their runners in any way, other than by pushing, pulling or carrying them.
Pacers may not mule which is to carry any of the compulsory items or nutrition and hydration.
---
Camping
---
2 nights of camping is included in your entry.
Please note that any crew and supporters will also need to book and pay for camping. Booking for camping will be done through Karkloof Trail Series and not via the Karkloof Country Club. Bookings for the camping will open on xxxxx
Booking will open on the 1st of August 2022 for additional camping.
---
Crews and Supporters
---
Crew form an integral part of the race, and many runners regard it as a team effort.
You can see you runners at the following places, during non curfew hours:
Karkloof Country Club Aid Station
Sappi Road Crossing
Karkloof Canopy tours
Bushwillow Camp Site
Msomi Road Crossing
Mbona Aid Station
Mbona Bottom Gate
Benvie Gardens
This gives you approximately 8 places to see your runner along the 50 Mile route!

The access roads to checkpoints and viewpoints are a combination of tar and dirt roads but all passable with a standard sedan vehicle. Some dirt sections are in poor condition. Please do not go in search of your own spectator points as you may jeopardise the future of the race by annoying local land owners. Please drive as slowly as possible to improve the safety for everyone around you. There are sections of the course where the runners and crew vehicles share the course, although far fewer than before. There is a tendency to rush between points, but this is unnecessary as there is enough time to get between the points ahead of your runners on each occasion.
Please do not enter the Runners' Only Area of the Aid Stations.
Please do not go onto any private land whatsoever - this jeopardises the future of the race.
If you are found trespassing, your runner will be disqualified immediately.
Viewing Points
View points are points along the route where crew and spectators can see and support their runners and pacers can be exchanged.
Public roads within the vicinity of the club. Do not stray onto private land.
---
Refunds, Deferrals, Postponement & Cancellation
---
Refunds, Deferrals:
The following refunds are applicable if a runner withdraws their entry:

100% before 1 June 2022
50% before 1 August 2022
25% before 1 September 2022
No refund from 1 September 2022 to Race Day

Runners can defer their entry to the following year at any time before 1 September 2022.
Runner deferring entries will be liable for any additional costs owed due to price increases.
Postponement and Cancellation:
If the race organisers are forced to postpone the race for any reason, all runner entries will be transferred to the new date.
If runners cannot make the new date, a refund will apply. Runners will need to request a refund in writing.
If the race organisers are forced to cancel the race due to unforeseen circumstances, the following will apply:

Cancellation of race before the 1 August 2022 - 100% refund or deferral to following year, depending on the runner's choice.
Cancellation of the race between 1 August and 31 August 2022 - 50% refund or deferral to following year.
Cancellation of race after 1 September 2022 - 25% refund or deferral to following year.
---
Entry Excludes
---
Camping Fees for Supporters
---
Entry Includes
---
50 Miles of Marked Trails

Race Garment

Finishers Medal

Field Camping for 2 Nights

Medical and Safety Support Services

Fully Stocked Aid Stations

Drop Bag Services

Entry for Pacer

Shuttle to the Start
---
---
24 September 2022




06h00




R3000






​
The Karkloof 50 Miler is a point-to-point trail race, taking place in the Karkloof Valley.
The race starts at the famous Benvie gardens, and makes its way through the Karkloof Valley, passing the Karkloof Falls and finishing at the Karkloof Country Club. Runners have 18 hours to complete the race, and the winners are expected to finish in 7 hours.